Sign in Problems
1. Can't Sign In
Please follow the instructions below:
Please check your sign in details and make sure your username is the email address which you used for registration.
If it dose not work, please contact our customer service, they will help you to handle the issue.
TIP: If you're not certain whether the problem is with us or you, please try to sign in with another computer, or try different browsers. When you registered, you might make a mistake which got you fail in accessing your account, and you can not make any orders. You had better register for a new account in a quickest way.
2. Forgot Your Password
You may reset the password by clicking the "Forget password?" button on the "Sign In" page. Then go to your email inbox, and reset your password.
Order tracking
1. How to track my order status online ?
You will find an access to track your order status in the top of the webpage. Click Track My Order, input your order number (You can find it in the confirmation email we sent to you upon receiving your order), then you can see the real-time status of your order.
Shipping & Delivery
Please click here.
Payment Guide
Please click here.
Return and refund
1. Can I return or cancel the dress if I change my mind?
Our dresses aren't just pulled from a warehouse - once your order is confirmed, our tailors begin selecting materials in the color you requested and cutting fabric based on your measurements. Even standard size dresses are made to order for each customer. The custom nature of our dresses means our cancellation and return policy is stricter than for other items, so it's important to order carefully. For full details, see our Return Policy
2. Can I return the dress if it does not fit or I don't like it ?
Your satisfaction is our long-term pursuit and upmost concern. Once your package has arrived, we encourage you to open and check to make sure that the dress that we made meets your requirement. Try your dress on as soon as possible without removing the tags, altering, or washing the dress.
For any items, if there is a quality problem and you want to apply for a refund, please upload some persuasive pictures or video. Once it is verified, you can send the item back to us (customer assumes the shipping cost) only after you get our permission, and we will give you the corresponding refund.
To know more, please check our return policy.
3. When will I receive my refund ?
It takes 1 to 3 weeks for you to get the refund after you get the refund permission from our customer service team. Please allow for some days for it takes longer time for the bank to process international refunds
Product Related
1. Can I order this dress in a different style/fabric/length?
we are able to modify the style, length or material in any way. If you haven't found exactly what you're looking for yet, please leave us a message to make it clear how would you like us to alter the dress you order.
If you want us to tailor made a dress you like, see our Tailor-Made service
2. Do you have photos of other customers wearing the dress?
We only have photos of our models wearing the dress, but sometimes customers send photos of themselves to our customer service team. You can consult our customer service to see whether it is available.
3. How do you measure length for mini, knee-length and tea-length skirts if you only collect a hollow to the floor measurement?
We use the hollow to the floor measurement and your height to determine where the knee is and then cut the correct length according to the dress design.
4. Will my dress exactly match the color I see on your website?
There might be a slight difference between the actual dress's color and what you see in the photo depending on your computer monitor's display settings.
5. Do you have a physical store ?
No, we are purely an online rental boutique and we don't have a physical location where you can come and try on dresses. All products are delivered to you.
6. Can I see the dress in other colors?
Unfortunately we are only allowed to send or post pictures provided to us by the manufacturers of the dresses we sell. Not all colors of the dresses are pictured by the manufacturers and therefore all the pictures you see are the only ones we have available.
7. Do you offer dress rent service?
Sorry, we do not offer dress rent service.
8. When should I order my wedding dress before wedding?
Please place your order at your earliest convenience. Normally, placing the order can't be less than 1 month in advance of your wedding ceremony. We also afford you a comfortable time frame to accommodate any alteration if necessary.
9. How do I know what size I should choose? How to measure?
Check How To Measure .You will know how to measure your size and choose the right size in Size Chart.
Colour
1. How to choose the colour shown on the pictures?
To choose the photo colour, move your mouse on the button "As picture" (See the following photo), then click the small photo to confirm choice of the colour expected.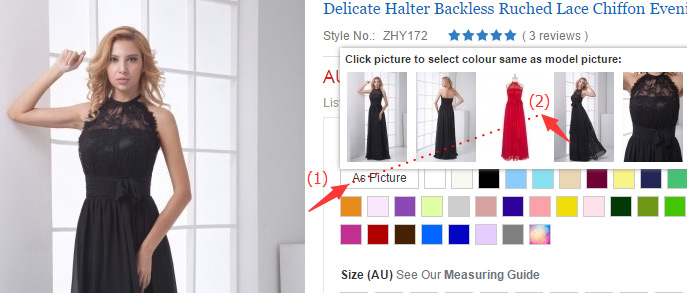 ♦ Please note that colours on your device may differ slightly from actual product colours depending on your monitor settings.
2. How to choose a colour other from those proposed on the product page?
Step 1. Visit the shared palette of DressesMallAU & Persun to find out the number of the color expected.
Step 2. At the product page, click "Other color". (See the following picture)


Step 3. Add the item "to Shopping bag", then click "Proceed to Checkout". (See the photo attached)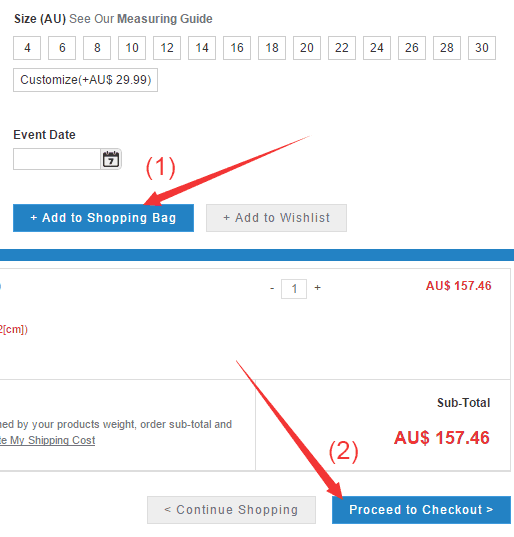 Step 4. Leave us message by specifing the number of the color expected. (See following illustration)